Zwei neue Businessformate
open valley berlin
IT-Innovationen und Erfolgsgeschichten "Made in Berlin" am 23.05.2012.
Anmelden und mitmachen.
Open Minds Economy
Großer Gemeinschaftsstand der Open Source Business Alliance mit eigener Vortragsreihe (24.05.2012). Hier dazu mehr.
LinuxTag-Lounge
LPI-Präsentationen, zwei interessante Vorträge zu rechtlichen Aspekten in der IT-Welt am 24. Mai sowie allgemeines Socializing im Rahmen des LinuxTag laden Sie zum Verweilen in der Bloggerlounge ein. Erfahren Sie mehr darüber.
LPI: Linux Essentials & Certification
Dates for "Beta" exams of the new program Linux Essentials and LPI-Certification 2012 are online.
More information you find here ...
Exhibitor service
More feedback by Highlight-Report
Good causes for your participation
More information here...
LinuxTag TV
New: LinuxTag TV! Not only for those who couldn't make it to Berlin. We proudly present 16 current trailer of LinuxTag 2011. Esteemed personalities of Open Source in Germany invite you to visit the Berlin fairground from May 11 to 14. Besides some lectures, interviews and impressions rouse memories of former LinuxTage at LinuxTag Archiv.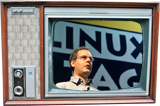 Questions about LinuxTag?
Petra Kuhfuß,
Project Manager
for inquiries about exhibition and participation of open source companies,
contact for partners and sponsors.
kuhfuss[at]messe-berlin.de
fon: +49-30-3038-2195
fax: +49-30-3038-2515
LinuxTag association (e.V.),
conceptual mentor,
for general inquiries about content and message of the event.
info[at]linuxtag.org
Projects team
of LinuxTag e.V.for inquiries about exhibition and participation of free open source projects.
projects[at]linuxtag.org
Conference team
of LinuxTag e.V. for inquiries about the free LinuxTag conference program.
conference[at]linuxtag.org
Social Media
Sorry, there is no result for your search. Try another one.
Social Networks
Where .com meets .org 2012
LinuxTag is the most important place for Linux and open source software in Europe. The 18th LinuxTag will take place on 23. - 26. May 2012 - for the sixth time at the Berlin Fairgrounds - and presents all the latest news and information for professional users, decision makers, developers, beginners and the Linux community. LinuxTag is organized by the LinuxTag Association in partnership with Messe Berlin GmbH.

During four days visitors of the fair and the congress can experience the open-source-trends. Collaboration and interesting business models are focused on under the slogan "Open minds create effective solutions". The main topics include innovative Android projects and enterprise storage with a special perspective on the SSD drive as well as tools and methods of system management, such as monitoring and configuration management.

Many open source projects will present their free software. Special events such as the hacking contest, the Kernel-Kwestioning with many Linux developers, Key-Signing-Parties, LPI exams or numerous workshops complete the program.
Proposals for the conference in line with the call-for-papers can be submitted until 29. January 2012.
LinuxTag 2012 is over - see you next year!
A big thank you to the visitors, exhibiting projects, commercial exhibitors, numerous speakers, invaluable helpers and our great sponsors. You made the 18th LinuxTag a success!
The 19th LinuxTag will happen from 22rd to 25th May 2013. See you next year in Berlin!
Talk materials
For everybody who couldn't make it to Berlin this year we had video-livestreams of some talks thanks to the openSUSE-videoteam and Beuth-Hochschule. We look forward to make available the recordings of those as well as further materials of the talks from LinuxTag 2012 shortly.
Details and links to the recordings of openSUSE-videoteam are in our wiki.